Ford will introduce the next-generation Transit Courier to dealerships in the summer of 2023. The panel van, in the shape of a Citroën Berlingo, Peugeot Rifter or Renault Kangoo, will offer a quarter more boot space than the current model and is also due to be available as an electric vehicle for the first time from late 2024.
Two euro pallets
In its largest version, the future Ford offers much more space than the current one; 2.9 cubic meters corresponds to an increase in maximum cargo space of approximately 25 percent. Ford promises that the upcoming model will be able to load two Euro pallets, and that also applies to its electric version.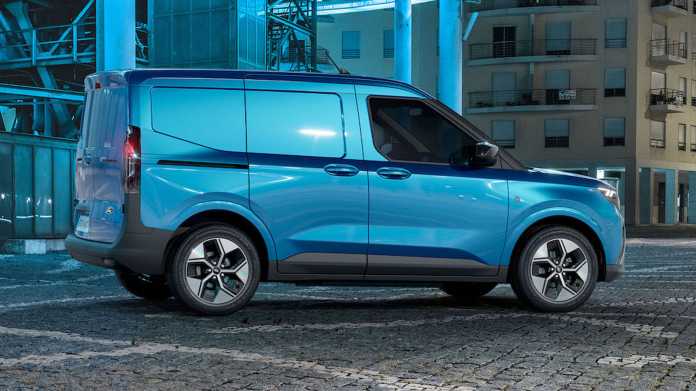 This was made possible thanks to the suspension of the rear wheels, which allows you to increase the loading width between the rear wheels from 1012 to 1220 millimeters. The length of the cargo compartment has been increased by 18 centimeters to 1.8 meters and can be extended to 2.6 meters in the area of ​​the new through-loading opening behind the folding front passenger seat.
E-Transit Courier only as a double
In the electric battery E-Transit Courier, the engine compartment is transformed into a trunk and offers an additional 44 liters of space. Despite the heavy battery, it can handle a maximum payload of up to 700 kg and tow trailers with a total weight of up to 750 kg. However, the E-Transit Courier is only offered as a two-seater.
As a wagon with five seats in two rows, the Transit Courier is only available with internal combustion engines. Models with petrol and diesel engines offer a maximum load capacity of 678kg and 845kg for an additional fee. Trailers and their contents can weigh up to 1,000 kg, with a diesel engine – 100 kg more.
Ford plans to use a 1.5-liter diesel engine with a capacity of 74 kW and a one-liter gasoline engine with a capacity of 74 or 92 kW. A six-speed manual transmission is standard, with an optional seven-speed dual-clutch automatic for the 92kW petrol engine. The electric transporter is equipped with a 100 kW electric motor.
The size of the battery has not yet been specified
Ford will provide information on battery capacity and range at a later date. The manufacturer's reluctance to commit until late may have something to do with the quantities and prices at which it can get the cells it needs – both lithium and lithium-iron-phosphate (LFP) cells are all the rage at Ford right now . Batteries can be charged from 10 to 80 percent in less than 35 minutes at fast charging stations, and from 10 to 100 percent in 5.7 hours with an 11 kW wall box.
The new generation of Transit Courier models with gasoline and diesel engines will go on sale from the summer. The electric E-Transit Courier is scheduled to be unveiled at the Commercial Vehicle Show in Birmingham, UK on April 18, 2023, with a market launch scheduled for late 2024.

(fpi)